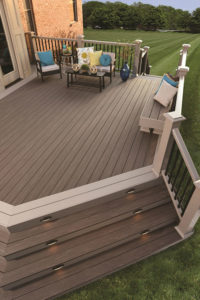 When it comes to choosing the right deck there are many things to keep in mind. Such as size, location and materials.
The first step is planning. You will want to ask yourself a few questions.  How will I use this deck? Is it a private area for you to relax and enjoy your views or will I be entertaining on my deck?
What is the location or exposure to the sun? Do you want to take advantage of morning sun or evening sun? Decks on the south can get very warm in the evening. In which case you may want to consider a covered deck or screen porch.  Next you will need to check with your local building official on what codes and setback you may have on your property.  Take moment and think about future plans. Someday do I want a hot tub or would I want to turn it into a screened or four season porch? If you are thinking of any of these things you will want to plan for them right away. You will save yourself headaches and money to have the proper structure in place for your future plans. Now it's time to make bring your deck to life. Having your plan drafted will give you the chance to see you deck before it is build. You will get to see what all your planning has accomplished. Getting a drawing of your deck is the first step in getting a building permit.  Most building official will want to see a set of blue prints of your deck to verify it will meet all local codes.