By: Karah Hawkinson, Social Media Coordinator
The best home improvement project we ever did was putting a deck on our house. When we bought our home there was just a second story sliding glass door to nowhere. I remember looking out and dreaming of a place where I could sit with my morning coffee, access the backyard, and grill in the summer.
When we finally had the deck built, I was like a kid on Christmas morning. The morning after the deck surface was put on, before the railings were added or the stairs were finished, I finally unlocked that useless door and walked outside with a cup of coffee. As I sat in the middle of my incomplete deck, all I could do was smile.
 Fast forward a year, and I wasn't smiling any more. I still loved my deck, but staining it is a HUGE job for amateurs who don't own a paint sprayer. Protecting a wood deck with stain is vital. Harsh weather conditions cause unprotected wood to wear, and eventually rot. We've gone through the staining process every three years, and the job doesn't get easier. You have to haul the grill and furniture down the stairs, powerwash the deck, wait for it to dry, scrape away the old peeling stain, and meticulously apply the new layer.
Properly maintaining the finish on a lumber deck is a lot of work, but doing it yourself saves money. With renting a power washer and buying supplies, it costs about $200 every three years (homeadvisor.com), plus two or three days of your time. If you don't have the time or skills to do your own maintenance, you can hire it out. According to a pro contractor I spoke with, having someone come pressure wash, scrape, and refinish a 10×12 deck costs about $2000 every three years, and the process still takes several days.
Building with cedar instead of treated lumber reduces the maintenance burden. Cedar is more dense and rot-resistant than treated lumber. It costs more upfront, but the only maintenance it needs is an annual washing and coat of sealer.
 Maintenance-free decking is the ultimate labor-saving option. Composite decking materials resist damage and since they're not absorbent, they don't rot. The disadvantage is that maintenance-free costs more upfront.
According to Trex, a maintenance-free 10×12 deck (basic rectangle with substructure, deck, and railings – no stairs) costs about $2900 in materials. Compare that to cedar at about $1500, or treated lumber at about $1200 for materials (decks.com estimator). You can see that the upfront cost difference is significant. But does it save you money in the long run?
An untreated wood deck has a lifespan of about 15 years. With regular maintenance, that can be extended to about 20 years. With basic maintenance, cedar should last about 25 years. A composite deck will last 25-30 years.
Let's lay this out in chart form so we can compare: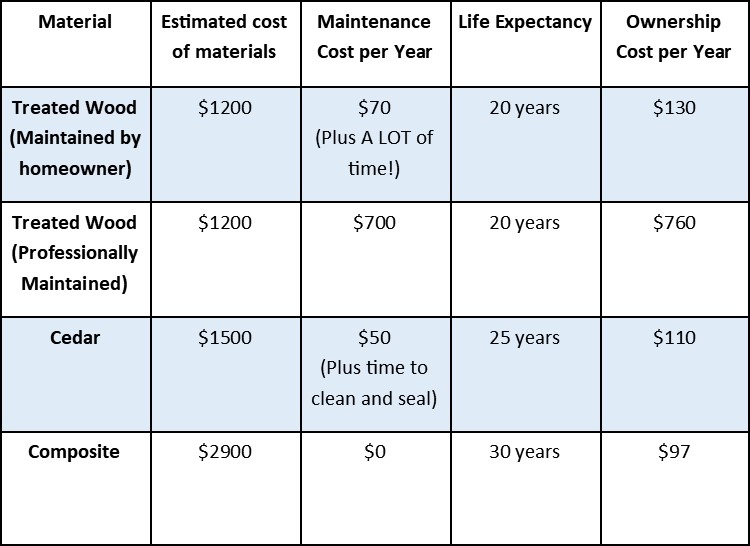 As you can see, though it's a bigger up-front investment, the long-term ownership cost per year is lowest when you choose maintenance-free materials, not to mention all the time you save!
Whatever material you inherited when you bought your home, or what you choose when building, make sure you maintain your deck properly to protect your investment and keep it safe and stable for many years.
*Prices listed in this blog post are rough estimates calculated by various cited websites. For an accurate estimate of your project costs, visit our showroom.
https://countrylumber.us/wp-content/uploads/2017/10/DCP_3033.jpg
1440
2160
Karah Hawkinson
http://countrylumber.wpengine.com/wp-content/uploads/2016/04/logonew-300x170.png
Karah Hawkinson
2019-04-15 20:24:22
2019-12-12 01:41:23
Deck Materials Comparison