By Karah Hawkinson, Social Media Coordinator
In the midst of the Covid-19 chaos, many small businesses, including independent contractors, are struggling. I decided to bring you a series of blog posts this week with my thoughts on small business growth and inexpensive things that you can do right now to strengthen your business. Even if the Coronavirus isn't causing headaches for your business, there are always down seasons, and this information will be here for you when your down season comes.
So what do I (Social media coordinator Karah Hawkinson) know about this? First of all, I grew up in the home of a bi-vocational minister/painting contractor. Yup, an odd combination, but Dad was a painter first and used that skill set even after he became a pastor. There's a lot of "do-it-yourself" and "figure out how to do it inexpensively" in both of those professions, and I grew up pitching in. As an adult I spent ten years doing contract jobs in marketing/ideation while raising my son and finishing my education. From there I went into history, a low-budget non-profit world not unlike the church world I grew up in. Along the way I've pulled those skills together and have learned how to think outside the box and grow our reach on a tight budget.
But enough about me…
I've given a lot of thought to small business/organization growth, and I came to the conclusion that businesses are like trees. They need to have strong roots in preparedness and community relationships. They need a solid body of work as the heart of it all, and they need some kind of marketing to attract the energy needed to continually feed the business.
A tree's roots are it's foundation and source of live-sustaining nutrients and moisture. Trees with weak or shallow roots die in periods of drought or are knocked over by storms and wind.
Your business is much the same. A business with a solid root system is one with resources to tap into and a support system to help it survive tough times. If you're not already, work on building up a bit of savings to help you weather tough seasons.
Just as important, make sure you put down roots in your community.
– Join your local chamber of commerce – when Covid caused a lot of businesses to shut down, chamber members started getting emails full of resources about government programs and help from the Small Business Association. We also share each other's events, and build relationships that sometimes turn into job opportunities!
– Join professional organizations and even Facebook groups for people in your industry. They know and understand what you're dealing with, and the community brainstorming helps a lot. In my other job at the History Center we have a Facebook group of our colleagues from around the state. The group has been busy during our state-mandated shutdown, and we will emerge stronger for the ideas we share with each other!
LinkedIn is another free social media option for this. You can follow other businesses for inspiration, and it's a great place to network and hire.
– When times are good, invest in the community. It's a great way to get your name out there, but it also helps you develop the reputation of stability and longevity. Fly by night contractors who swoop in after a storm and skip town before the warranty expires do not invest in the community, because they don't care. Investments are more than money, too! Volunteer, join a club/organization/church, help your neighbors, run for office, share local events on social media, etc.
– Make sure you have business cards or some kind of marketing tool (pens, brochures, etc.) that you can hand out when you meet people. The new guy you met at church might not need a roofer right now, but when he does, he'll need to know how to find you! It doesn't have to be flashy, either. Buy perforated sheets of business cards and print them at home, if that's what you can afford – just make sure people connect with you and can find you again when they need you!
Trees and businesses that last have solid roots. Think about what you can do right now and down the line, to strengthen the foundation of your business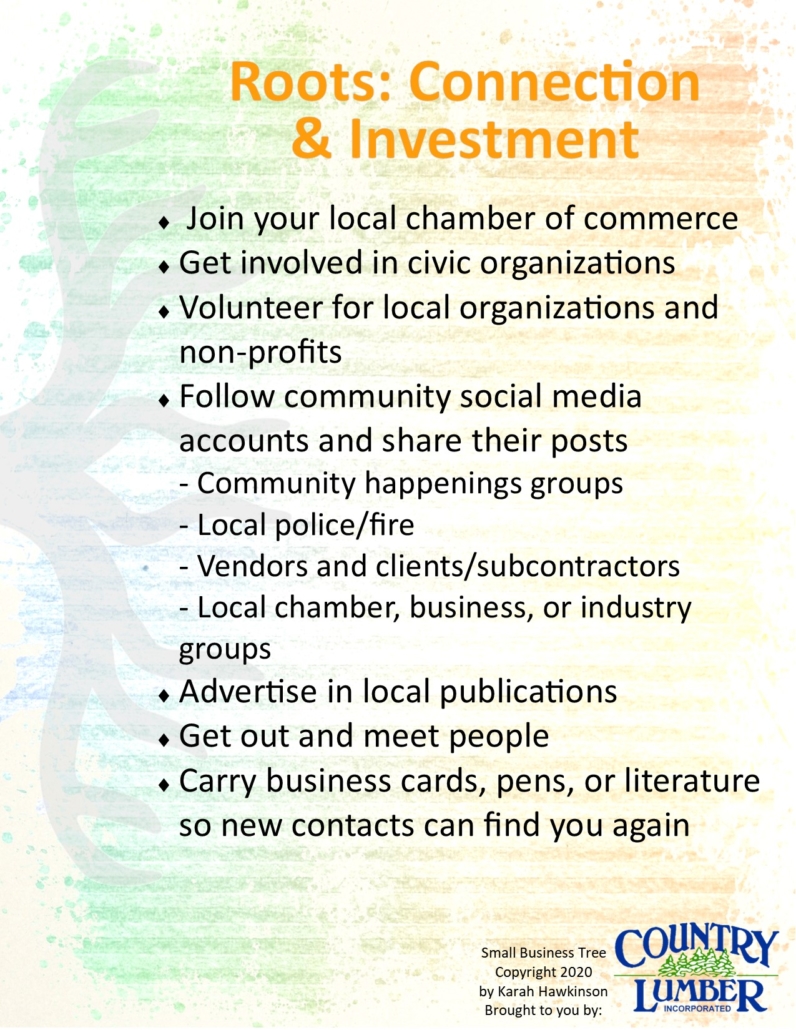 https://countrylumber.us/wp-content/uploads/2020/04/Tree-series-blog-cover-Roots-1.jpg
450
1200
Karah Hawkinson
http://countrylumber.wpengine.com/wp-content/uploads/2016/04/logonew-300x170.png
Karah Hawkinson
2020-04-20 16:09:06
2020-04-20 16:09:07
Roots to Leaves: Part One - Roots