Welcome to day three of Roots to Leaves: Small Business Growth in Trying Times. Today I'm talking about leaves!
When one looks at a tree (in season), the leaves are the first thing that get noticed (unless there's something obviously wrong with the tree, but let's assume our metaphorical tree and your small business are healthy and not getting noticed for the wrong reasons…). Leaves are showy. They wave in the wind and change colors with the seasons. They're the first clue about what kind of tree we're looking at. They're also temporary.
The same is true for the marketing of your small business. For potential customers, marketing is probably the first thing they see of you. It's meant to get attention and reveal your business to the world. It's temporary and changes with the seasons. As leaves absorb sunlight to feed the tree, so your marketing brings a steady supply of new life and energy to your business.
I hear your objections – Marketing isn't what you do. Marketing takes time and money, and you're short on one or the other. Shouldn't your body of work be enough?
Yes and no. Pretty leaves can't save a diseased tree. Your quality products and service have to be the foundation. But attracting new customers is vital, and word of mouth isn't always enough. Fortunately, there are inexpensive things you can do to keep energy flowing into your business.
Let's start with the internet and social media, because it can be overwhelming, and it seems like it's always changing. But there's good news – You don't have to do everything! In fact, you shouldn't. Pick social media platforms that work for you and your business and do those well. Different platforms hit different audiences, use different tools, and tell stories in different ways. Find one or two that work for you, and get yourself set up.
– Website: Your business website is your home online. It's how you show up in Google searches. You own and control the content of your website. Building a site (if you don't have one already) can be as simple as signing up with something like WordPress or Wix and using their templates, or as extensive as hiring a web developer to build and maintain something more elaborate. My main suggestion if you're building a site is to pay the small annual fee for your domain. Don't make potential customers try to figure out or remember something complicated like website.wordpress.com – pay a few dollars to own your .com (.us, .org, etc.)
– Facebook is the most popular social media site. It's free to join, but make sure your business joins as a "page" and not as a person. Put your logo as a profile picture, and set up a cover image and all your contact information. Use your page to follow vendors and industry insiders, and share the valuable things they post. Share images of jobs you do (just make sure you're not including personal info on your customers, like the address of the job site – remember that whatever you post can be seen by the public). Have some fun on your page, sharing clean jokes and memes. Use it to showcase new products and services, accomplishments and anniversaries, and to express your best wishes on holidays.
– Instagram is the fastest growing platform. It's more popular with younger people (Gen Z) who are not as interested in Facebook. Instagram is owned by Facebook, so if you set up both and connect them, you can actually have your Instagram posts show up on your Facebook page at the same time. Instagram is very visual. It's less about telling stories and more about showing pictures. For a lot of businesses, that works. You can show off completed jobs, introduce new staff, or share new products.
– LinkedIn isn't really about attracting new customers, but it's a great site for hiring and connecting with colleagues and other professionals in your industry. Set up a personal profile so you can recommend people like subcontractors and former employees. Set up a business profile if you plan to use it for hiring.
– Twitter is Instagram's opposite. Where Insta is picture-based, Twitter is word-based (though you can add images). Twitter is great for quick one-line quick bits of info, so it's popular with news sites, comedians, and the President. It's easy for your words to get lost in the sea of text, so if you're going to use Twitter, post often.
– There are many other social media platforms (Snapchat, TikTok, YouTube, Pinterest, etc.). I've just hit on a couple of the big ones that are most likely to be beneficial for Country Lumber's small business clients. For a more in-depth look, or to explore some of the platforms I left out, check out this article from Adobe.
Within social media platforms, you have the option to post so your followers see your posts, and/or to pay for ads that go out to a targeted audience. Prices tend to be lower than traditional advertising sources like print media and billboards, and you have better control over who sees your ad.
Building a following takes time. Start by inviting your personal friends, family, and social media connections to like your business account. Follow your vendors, suppliers, and other businesses that you work with. Post content regularly, at least once a week, even if it's just a picture of a job you're working on or sharing a post that a vendor put out. Keep your business in front of your audience. Some platforms let you schedule posts ahead of time, so that's a great way to get ahead of the game on a bad weather day or during the slow seasons.
I know I've focused heavily on social media and internet marketing – after all it's inexpensive and available right on your computer or smartphone, but there are other important leaves out there.
– In a past post I mentioned the importance of business cards/brochures/other marketing materials that you can hand out. These can be ordered with your logo and contact info from local businesses or online suppliers.
– If you have a shop, make sure it's labeled well. Same for your trucks. You're out there being seen every day – take advantage of that with vehicle decals or magnetic signs that advertise your business.
– Logo apparel/name tags/uniforms visually identify your staff with your business. Like other marketing materials, they can be ordered online or done locally. (Shout out to Tiffany at McDowall Custom Embroidery who does Country Lumber's logo wear. She's awesome!)
– Community involvement (roots) is a form of marketing, too. Support a local non-profit or kids sport/activity, participate in the chamber of commerce, or have a float in the summer parade.
The idea is to put your business out there so it can get noticed and be known.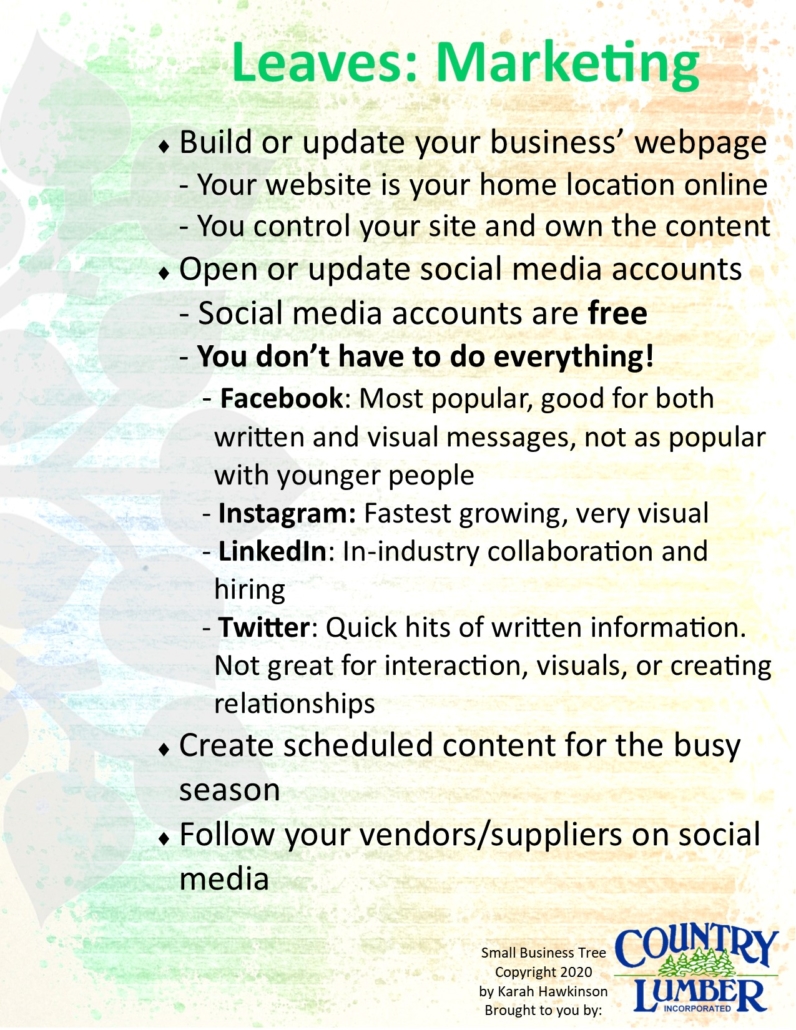 https://countrylumber.us/wp-content/uploads/2020/04/Tree-series-blog-cover-Leaves.jpg
450
1200
Karah Hawkinson
http://countrylumber.wpengine.com/wp-content/uploads/2016/04/logonew-300x170.png
Karah Hawkinson
2020-04-22 15:38:07
2020-04-22 15:38:09
Roots to Leaves: Part Three - Leaves that Attract Energy