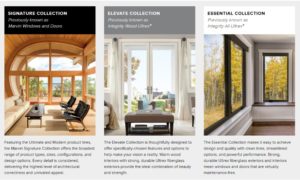 Marvin
Marvin windows and doors have the power to transform the spirit of a room. Each product is made-to-order, one at a time, to your exact specifications. With our customization options, exclusive features, high-performance energy efficiency innovations, and our unmatched personal service at every point in the process, you will be able to find the perfect windows and doors for your project.
Thermo Tech
Expect more from Thermo-Tech Premium Vinyl Windows and Doors. At Thermo-Tech, we build in more quality, so homeowners can expect more energy savings, more beauty and more comfort. Thermo-Tech offers vinyl windows and doors in a wide array of standard sizes that make new construction a breeze. Or we can build replacement windows or doors for nearly any replacement project. No need to reframe. Simply order the size windows that you need, all the way down to 1/16th-inch increments—and we'll deliver.
Vector
At Vector, we believe hard work and a "get-it-done" attitude are the secrets to lasting success. That's something we learned from professional builders. We also learned to take pride in our work and that excuses aren't an option.
It's that uncompromising commitment to builders that informs our unparalleled service and exceptional craftsmanship. With Vector, you'll find quality windows and doors that help builders achieve better results with quick delivery times, personalized service and minimal call backs.
If you've ever used our windows, you already know the difference we bring to the table. If you haven't, we hope you'll take this opportunity to see what all the fuss is about.
Not just an ordinary lumber company.