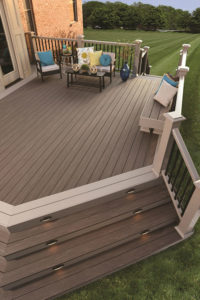 When it comes to choosing the right deck there are many things to keep in mind. Such as size, location and materials.
The first step is planning. You will want to ask yourself a few questions.  How will I use this deck? Is it a private area for you to relax and enjoy your views or will I be entertaining on my deck?
What is the location or exposure to the sun? Do you want to take advantage of morning sun or evening sun? Decks on the south can get very warm in the evening. In which case you may want to consider a covered deck or screen porch.  Next you will need to check with your local building official on what codes and setback you may have on your property.  Take moment and think about future plans. Someday do I want a hot tub or would I want to turn it into a screened or four season porch? If you are thinking of any of these things you will want to plan for them right away. You will save yourself headaches and money to have the proper structure in place for your future plans. Now it's time to make bring your deck to life. Having your plan drafted will give you the chance to see you deck before it is build. You will get to see what all your planning has accomplished. Getting a drawing of your deck is the first step in getting a building permit.  Most building official will want to see a set of blue prints of your deck to verify it will meet all local codes.
Choosing Materials
Starting from the ground up you first have the footing, typically these are concrete pier footing. Tubes of concrete that are dug down below the frost line. Be sure to check the depth of footing required in your area. Other options are a Diamond pier footing. These footing do not require you to dig a hole. They are a footing that sits on top of the grade and has long rods that are jack hammered into the ground. For soil conditions that are less than perfect Helical piers are and option. These are large screw in footing. They can go much deeper than traditional footing to reach solid ground.
After the footing are in place the structural components would be added. The structural components are almost always treated lumber such as beams and joists. Posts however can be Treated, Cedar or Composite posts. There is decorative post wraps available too.
Now for the big question what decking is right for me?  There are basically two types of decking, wood decking and composite decking.  Let start with the wood decking options.  First we have Treated Decking. Treated decking usually comes in green treat but is also available in brown as well. Treated wood is a chemically pressure treat lumber to make it resistant to rotting. Treated decking is usually the most economical choice. But can have knots and splitting.
Cedar decking is a very nice choice if you are looking for wood deck. Cedar is naturally decay resistant wood that is very beautiful. It is also very easy to work with. Cedar falls into the middle of the price range. Cedar will be more than treated but less than exotic woods.
If you're looking for more of a high end deck you may prefer to go with exotic  woods, such as Ipe or Tigerwood.  These types of decking are brought in from overseas. Exotic woods are very unique also very expensive, but if you are looking for that one of a kind deck it is hard to beat the exotic woods.
Wood decking materials do require annual maintenance. If you want to keep their natural beauty you will need to apply stain to them or they will weather and turn gray. If you are not into the whole maintenance thing there is good news. There are many maintenance free products available in many different price ranges.
Maintenance free or composite Decking is combinations of plastic and wood. However some maintenance free decking consists of only plastic and some uses alternate materials to wood. The number one advantage to maintenance free decking is more time spent enjoying your deck and less time spent maintaining it. Maintenance free decking is available in a variety of different colors. This gives more design options.  Another option offered is blind fastening systems. This is ability to attach the decking to the joists without seeing the screws.  Some use brackets and some use a screws that is covered by a plug.  Maintenance free decking does cost more than treated and cedar but, if you factor what your time is worth over the life of a deck it may be worth it.
There are many options when it comes to railings. Much like the decking, railings come in wood and composite and also aluminum.  Wood railings are generally built out of 2×4 & 2×2 material in either treated or cedar.  You are not just limited to wood.  You can use combination of wood and aluminum balusters. Balusters come in all different shapes and sizes, from round to flat and straight to curved. You can also get glass panels and cable railing systems.  Some balusters even come with color options.  When it comes to composite railing some manufactures have railing that go with their decking. They come in kits and are assembled on your deck. The advantage to getting your decking and railing from the same manufacture is color option will be the same.  Aluminum railings are a becoming a very popular railing choice. Giving you nice views and durability.
One other thing to consider is lighting for your deck there are options for lighting kits. These bring an added design element. Lighting kits can be installed on stairs and walkways. They can also be installed as post top lights.
The beauty with many deck products today is they can be used in many different combinations. This means you can have a unique personalize deck you can enjoy for years.
http://countrylumber.wpengine.com/wp-content/uploads/2016/04/logonew-300x170.png
0
0
Roy Kollar
http://countrylumber.wpengine.com/wp-content/uploads/2016/04/logonew-300x170.png
Roy Kollar
2016-04-20 16:42:53
2017-01-12 19:06:21
Deck season