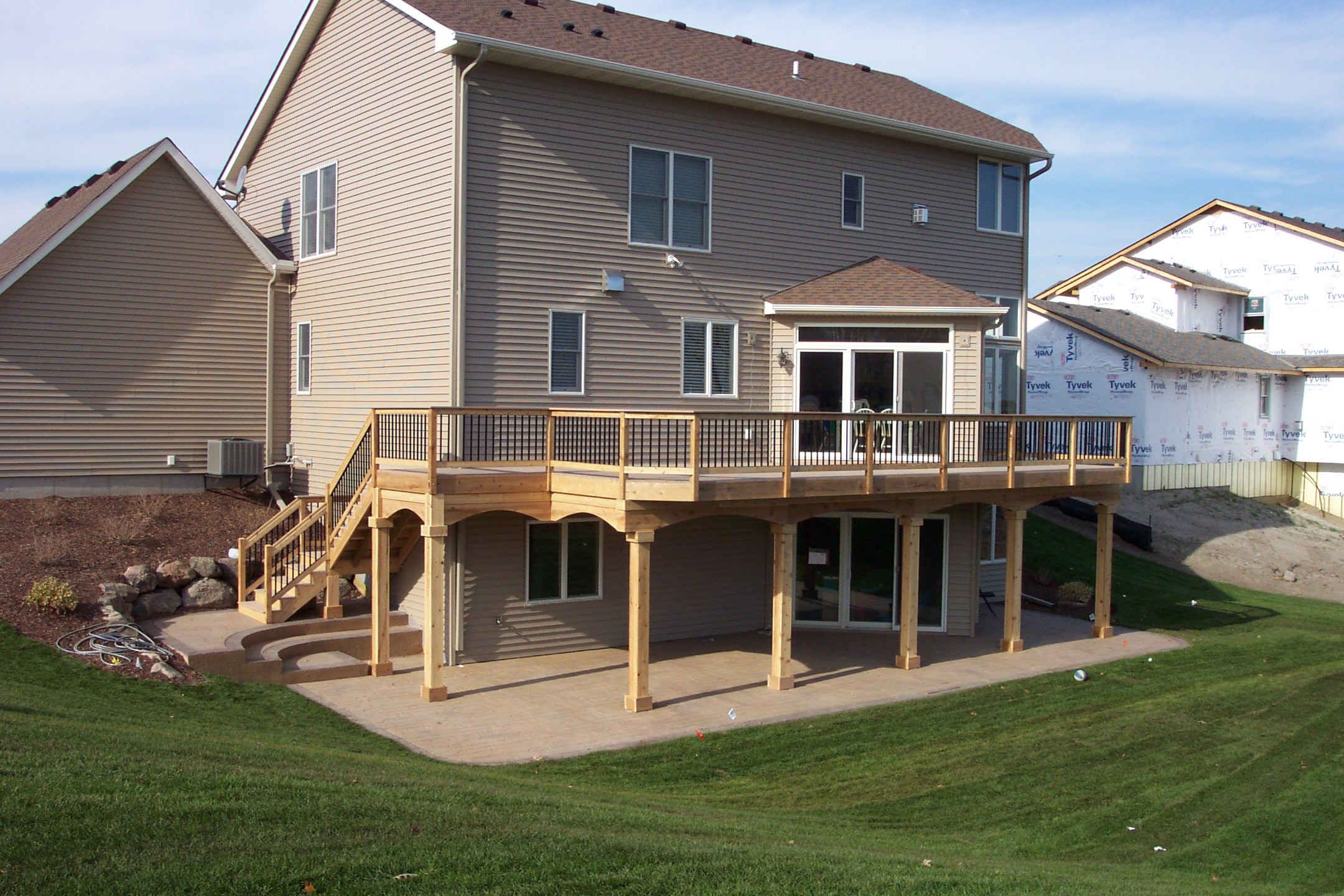 Everyone makes certain compromises when buying a new home. Perhaps your home had everything else on your checklist, minus your dream deck overlooking your beautiful, sprawling lawn. If you did need to leave building your deck until you earned more equity in your home or saved up for it in some other way, you are not alone. The North  American Deck and Railing Association (NADRA) reports that, just last year, about 2.5 million new or replacement decks were built in the U.S.
Why Are Decks So Popular?
There are plenty of great reasons that homeowners cite for building a deck to create abridge between their cozy home and beautiful yard to comfortably enjoy the greatoutdoors. Take a look at just a few of the reasons that decks are so popular:
The Prime Spot for Parties, Tailgates and Any Other Celebration. No matter where you live—or your area's climate—you can bundle up, stoke the fireplace in the winter months, or find ways to stay cool in the summer, and enjoy time in the fresh air with friends and family. Whether you are throwing a graduation party, anniversary celebration or a fall football tailgate get-together, your backyard deck is the ideal spot to congregate for a great time.
A Peaceful Place to Simply Enjoy Nature. Many people who work long hours at work each work long for a quiet spot to relax in their favorite deck chair, sip a favorite beverage and read their favorite book. Others take their yoga mat and finally catch their breath while catching occasional glances at their flower garden at the edge of the deck. If you want a quiet, meditative spot, is there any better place than your own backyard?
They're surprisingly easy to maintain. Many homeowners are able to maintain their decks with a little elbow grease and a simple tool set.
A Way to Add Square Footage to Your Home. Building a deck is the leastexpensive way to add square footage to your home. You can use it as an extension of your living room to spend quality time with your family and friends.
An Opportunity to Add Value to Your Home. Again, you are far from alone when it comes to longing to spend time outdoors on your home's deck. When you decide to sell your home, you will come across many delighted home buyers who appreciate your wise investment.
Some Additional Information That Might Help YouWhen Trying to Decide if You Should Build YourDream Deck
If you are still trying decide whether building your dream deck is the right choice for
your next investment in your home and property, it may help to consider some of the most notable benefits, particularly re-sale value since a 2010 article from U.S. News & World Report reports that "homeowners who add a wooden deck to their properties recoup on average nearly 81 percent of the project's cost when they sell the home."
Homeowners who build decks tend to enjoy a greater quality of life by being able to spend invaluable outdoors time with family and friends for daily life. They also getting to use their imagination to create a beautiful outdoors space to complement their cherished home with an amazing assortment of stunning and durable materials, no matter what the climate.
Kris Lindahl REALTOR® CRS CLHMS
RE/MAX Results
2407 109th Ave NE Suite 110
Blaine, MN 55449
http://countrylumber.wpengine.com/wp-content/uploads/2016/04/logonew-300x170.png
0
0
Roy Kollar
http://countrylumber.wpengine.com/wp-content/uploads/2016/04/logonew-300x170.png
Roy Kollar
2017-11-01 17:57:47
2018-10-04 17:51:54
The Value of Adding a Deck to YourHome