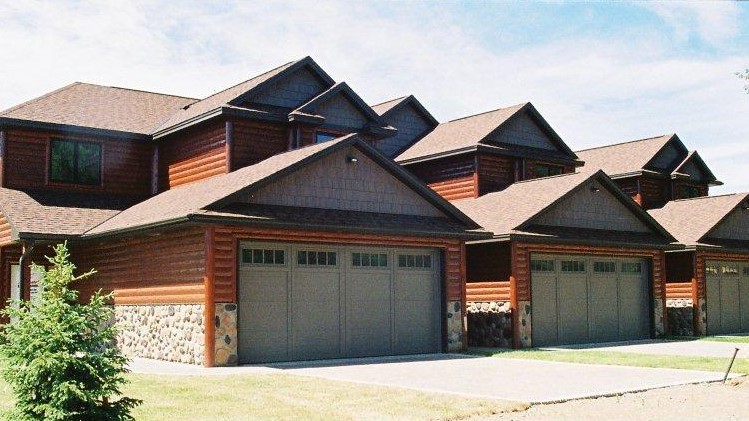 If you are looking to build a new home, a townhome may be a good solution for you.
Let's start with defining a townhome. Townhomes and condos are similar, but typically with a townhome, you own the piece of land that your home sits on. With a condo, you own the space between the walls, but the exterior elements are held in common.
A homeowner's association (commonly called an HOA) normally is formed when the buildings are built and takes care of the exterior of your home, provides lawn care, and in our climate, takes care of snow removal. In exchange for these services, you pay dues each month. There may be rules on what you can or cannot do in your yard or to your home. Usually these rules protect you as a homeowner, but do your homework ahead of time to avoid surprises.
In many cases, there are amenities that come with living in a townhome community. There could be a pool, a tennis court, or a recreational room or area that can be used for parties.
Of the many benefits or purchasing a townhome, one is security. Parking areas are close by or even shared, and neighbors know who belongs and who does not. People keep an eye out for their neighbors. If you are older, it can be comforting knowing that someone is close by to help out if needed. If you are a frequent traveler, it is pretty easy to have someone watch your home for you, and a nice benefit is not arriving home after a trip and having a yard full of weeds.
Another benefit to purchasing a townhome is that the cost is often less than if you bought a single-family home. Keep in mind your monthly HOA fees, but with the shared walls and typically smaller, simpler foundation, costs are kept down. You may be able to afford things that you would not be able to afford if buying a single-family home, such as granite countertops, stainless steel appliances, or hardwood floors.
There are many types of townhomes, ranging from small starter homes up to luxury models. Typically, in our Parade of Homes, the most affordable home has been a townhome in recent years. Here are some different types of townhomes that we are seeing built. A" 1 level patio home" will have everything on one level, typically built on a concrete slab, although some do have basements. This style allows you to "age in place" and possibly live independently longer. They are often built with wider doorways and wider hallways to accommodate a wheelchair.  A "Multi-level" townhome often allows for more bedrooms to be built on a smaller footprint. This style also can be built with or without a basement. A type of townhome that we are seeing more often is a "Detached townhome". This style looks and acts more like a single-family home, with the benefit of the HOA which will take care of lawn care, maintenance, and snow removal. Sounds pretty good for February in Minnesota.
While townhomes still make up a smaller percentage of total new home building permits than single-family homes, that gap seems to be shrinking. With the growing Baby Boomer generation and more retirees all the time, I predict more demand for townhomes in the future.  For some names of townhome builders that we work with, stop by and see us at Country Lumber. Thanks
http://countrylumber.wpengine.com/wp-content/uploads/2016/04/logonew-300x170.png
0
0
Roy Kollar
http://countrylumber.wpengine.com/wp-content/uploads/2016/04/logonew-300x170.png
Roy Kollar
2017-07-18 15:02:04
2018-10-04 17:51:54
Townhomes