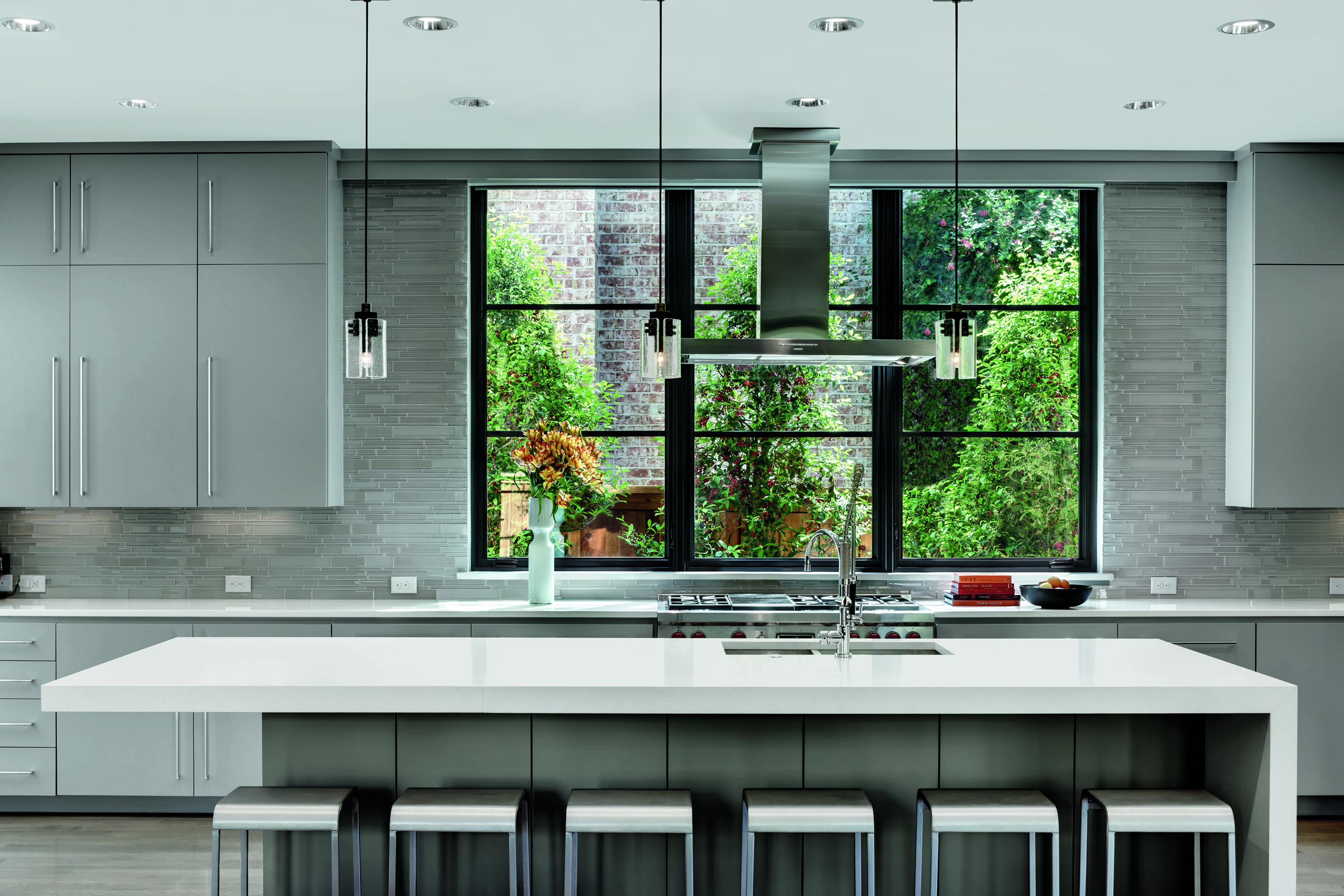 Why are you replacing your windows?
Do you have condensation on the inside of your glass when it gets cold outside?
This is caused by high humidity in the house and not from the windows themselves. When replacing your windows you should also install an air exchanger or adjust your current air changer to take the humidity out of the air. Just replacing the windows will not alleviate the problem.
If you don't want to install an air exchanger, you should consider windows with a vinyl, fiberglass, or composite interior. This way the condensation won't damage the windows. You still may need to wipe them dry when it gets cold outside.
Triple glazing is also something to consider. It will cut down on the condensation, but not eliminate it.
If you want the beauty of a stained or painted wood interior, you will need an air exchanger.
Do you have air infiltration or "leaky" windows?
New window technology is such that just about any window is going to be tighter than the old ones. By code they all have to meet current initial quality standards.
The thing to think about here is longevity. Don't be afraid to spend some money. Generally speaking, the more expensive windows will have more and longer lasting weather stripping, hardware, etc. The less expensive windows might look alright at first but they won't stand the test of time.
What type of window are you considering?
Casement and awning windows that crank out with a hand crank generally seal better than windows that slide. Casement windows crank out to the right or left. Awning windows crank out at the bottom.
Glider or slider windows slide right or left. Most have a fixed sashes, (This makes them tighter) but some can still have both sashes operate. Double hung windows slide up and down. When the top sash is fixed it's called a single hung. (Again a little tighter)
What type of glass should you use?
The most commonly used glass around here is 272 Low-E w/ Argon gas. This has two layers of Low-E coating on the glass and the air space between the panes is filled with Argon gas. This glass has a good balance of Low-E coating which cuts U/V light (this helps keep your furniture from fading) and Argon gas for R-Value (this keeps the cold out and the warm in).
Another popular glass is 366 Low-E w/ Argon gas. This has three layers of Low-E coating. This glass is better for warmer climates because the triple Low-E coating cuts more U/V light and there for reduces solar heat gain. This is more effective where cooling is more an issue than heating.
Triple pane glass is also available in some but not all windows. This gives a higher R-Value and cuts down on street noise. This glass is very efficient, but has some limitations because of its weight and thickness. If you are looking for a high R-Value or live in a high traffic area this might be something to consider.
There are other types of specialty glass available, obscure glass for bathrooms or foyers and tinted glass for high sun exposure areas like porches or great rooms with large high windows.
What style are you looking for?
Casement, awning, and glider windows tend to have a more modern look and work well together because of their vertical lines.
Double and single hung windows tend to have a more traditional or colonial look.
When thinking about style, windows grids should be considered. There are different types and they both have pros and cons. Grids between the glass or "GBGs" are generally the least expensive. Because they are between the glass the windows are easier to wash, but they permanent. Removable wood grids go on the inside. They can be removed for cleaning or if you just don't like them anymore, but they are easily broken and can be a hassle to take care of.
"SDLs" or simulated divided lites are permanently attached to the glass and give a more authentic look to the divided lite style, but they permanent and make the glass difficult to clean. Authentic divided lite is also still available but usually not something considered unless an historical re-creation is trying to be achieved. It is also the most expensive.
There are other things to think about, such as color, hardware color etc., but most of those are personal preferences and should be left as such.
I hope this was helpful. If you have more questions, please come and see us at Country Lumber!
http://countrylumber.wpengine.com/wp-content/uploads/2016/04/logonew-300x170.png
0
0
Roy Kollar
http://countrylumber.wpengine.com/wp-content/uploads/2016/04/logonew-300x170.png
Roy Kollar
2017-04-17 12:46:23
2020-02-28 03:50:49
Things to think about when replacing windows